HI! What's New?

For those who are returning to Kidcolabs.com, we've added Memory Verse Games and Balloon Games to the Game Zone and Coloring Sheets containing PDF's from some of Kidco Labs earlier lessons to the Download Center. There are also a few new articles in the Articles area to inform and inspire you to achieve greater things.

If you are new to our site, we'd like to welcome you. Although we may be new to you, we've been doing this for a long time. On this site, you can find resources, downloads and curriculum to help you make your children's ministries the best it can be. We also want to let you know that we'd love to help you out if we can. We're only a few clicks away.

Enjoy your visit and may God bless your ministry!
From the staff of Kidco Labs
F.U.E.L for your teaching!

If you are working with kids, then you should be using lots of F.U.E.L—Fun, Unexpected, and Engaging Lessons. Whether your weekly materials come from prepared curriculum or are something that you are creating from scratch, the F.U.E.L. principle should be core to all you do. And, we want to be there to help you out.




---

In our Resources area, we have supplied articles, tips & tricks and links for information to stimulate creativity and help you improve different areas of your ministry. We also offer original 13-week series based around a variety of themes. Take a look at the Curriculum area and download one of the sample lessons.

IS YOUR MINISTRY RUNNING ON ALL CYLINDERS?

Are you feeling run down? Is your ministry sputtering along and needing more power? Like your car, even the best-engineered engines need a tune-up and some minor adjustments to maintain peak performance. Does your ministry need a tune up? Or does it need something more like an overhaul? We have some guidelines to help make your next "ministry check-up" a positive and effective experience.





NEW 13-WEEK SERIES RELEASED!

Kidco Labs has been creating new and innovative lessons for years. Now, you can bring them into your classroom. Go to the curriculum area to find out more about the 13-week series that are available and preview some of the series that will be coming soon!

Take a look and download a sample lesson today
to see just what you can expect from the series.


TECHNICAL NOTE!

If you are using our site and you see something that doesn't look right, please let us know. We are working hard to give you the very best we can. Please send us an email and let us know what was wrong and where you saw it and we'll get it fixed as quickly as possible.

Thanks again for visiting Kidco Labs Web site. We hope that you'll be back often.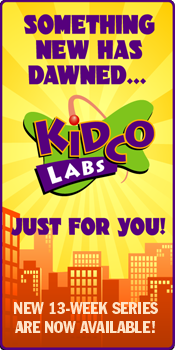 Resources Overview

Leader Resources

Game Zone

Worship Resources

Download Center

Articles



Articles Overview

Powerful Praise and Worship

The Science of Leading Great Games

Creating An Effective Environment

Leading Children To Christ

Creating Custom T-shirts

Making Custom Hats

Using Fonts Effectively

Add A Little F.U.E.L. To Your Lesson

Is Your Ministry Running On All Cylinders?

Live. Laugh. Learn.